On the detailed zoom levels this WMS has everything that is also shown on the well-known OpenStreetMap style. For the smaller zoom levels (i. e. the larger map scales), the presentation has been optimized for faster display in a WMS environment and has less detail.
(This is a demo view of the Geofabrik WMS server, restricted in speed and size. Geofabrik customers may retrieve maps of any size. If you simply want to look at the OpenStreetMap map, go to www.openstreetmap.org.)

In contrast to reprojecting or scaling raster tiles, the WMS computes the perfect image for every map request. This results in the best possible image quality, without distorted fonts or other artifacts.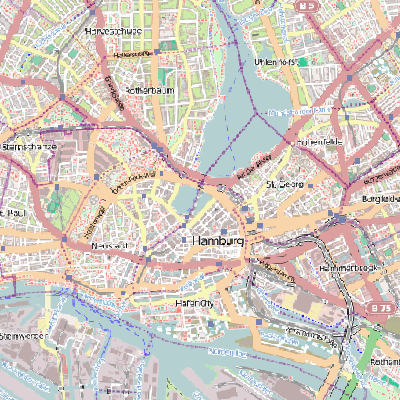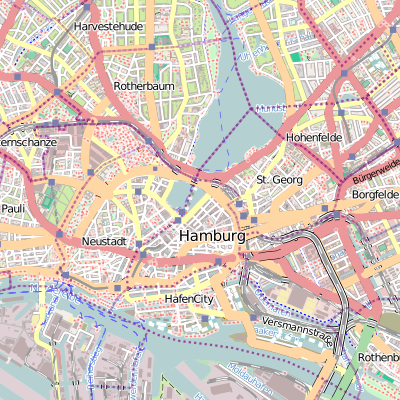 Hamburg in the Gauss-Krüger projection - left, re-projected raster tiles, and right, Geofabrik-WMS
The Geofabrik WMS supports high resolution output and can therefore also be used to produce raster maps for printing..
Coverage:

Whole world.

Updates:

Generally, changes from OpenStreetMap are reflected on the WMS within five minutes.

Image formats:

PNG truecolor (24 bit), PNG palette (8 bit), JPG. All images created directly from vector data (no reprojection of raster images).

Projections:

EPSG:4326, Gauß-Krüger bands 2-5, UTM 32 and 33, Spherical Mercator, and others
Use of the WMS server requires an access key which incurs a monthly fee. Geofabrik offers fixed-price access in different volume brackets, starting at EUR 40.00 (roughly US$ 45.00) per month for small volume access. Please contact us for a detailed quote or if you would like to test drive our WMS.
Geofabrik can offer WMS servers supporting exactly the features, areas, and styles that you require. Talk to us if you need anything special.