Routing
Routing Service based on Open Source Routing Machine
Geofabrik operates a routing service based on the open source software Open Source Routing Machine (OSRM). OSRM makes use of state-of-the-art routing algorithms and can compute routes across Europe within milliseconds. The engine supports the following features:
via points
turn restrictions
turn maneuvers
Geofabrik routing service offers the car routing profile and supports in addition to the normal route API call also the API calls for map matching, matrix requests and route optimisation.
The OpenStreetMap data used by the routing engine are updated regularly.
Try it out
Start
Destination
Pull the markers onto the map in order to calculate a route.
OSRM query results (JSON)
Pricing of the Routing Service
| Fare | maximum requests per month | Price without VAT |
| --- | --- | --- |
| Small | 100.000 | EUR 35 per month |
| Medium | 1.000.000 | EUR 70 per month |
| Large | 10.000.000 | EUR 140 per month |
| XXL | unlimited | starting at EUR 450 per month |
The fees are charged for one year in advance when the contract is concluded.
The conditions given in the table are based on the assumption that the queries do not excessively use server resources. We reserve the right to rengotiate the contract if the queries are too complex.
XXL: If the monthly limits of our offering are not sufficient, you can order your own routing server. Ask us for further details.
Customised Routing – Server Setup and Software Engineering
It is no issue if your request is off the mainstream or you need more resources. If requested, we install several open source routing engines on your hardware or run them on dedicated servers we rent for you. It is not limited to OSRM only, we offer GraphHopper, Valhalla and BRouter as well.
No use case is like any other use case. If requested, we adapt routing engines to your needs. This includes the development of new or the modification of existing routing profiles for different vehicle types or returning additional attributes of roads available in OpenStreetMap. We have even fulfilled niche use cases such as railway routing.
Get in touch with us if you are want to know more.
Reachability Analyses with our
Geofabrik

Spider Graph

Reachability analyses are used in location planning, answering questions like "what is the immediate neighbourhood of the location, reachable on foot in 10 minutes?", or "what areas can be reached by car within a given maximum time?". They require a road network and routing algorithm, as a simple bee-line analysis will often not adequately reflect conditions on the ground.

Software for that kind of analysis is often rather expensive, as is the road network data that is used to perform the analysis on. If you need to cover a larger area, for example a 90-minute bubble around an airport, they can also take a longer time to process.

The Geofabrik Spider Graph is a convenient and inexpensive web application that allows you to create reachability analyses for any place on the planet, based on OpenStreetMap data. You start the web application, select a starting location and a few parameters - the mode of transport and a maximum travel time -, and within a few minutes you can access the result of the computation in the form of a shape file.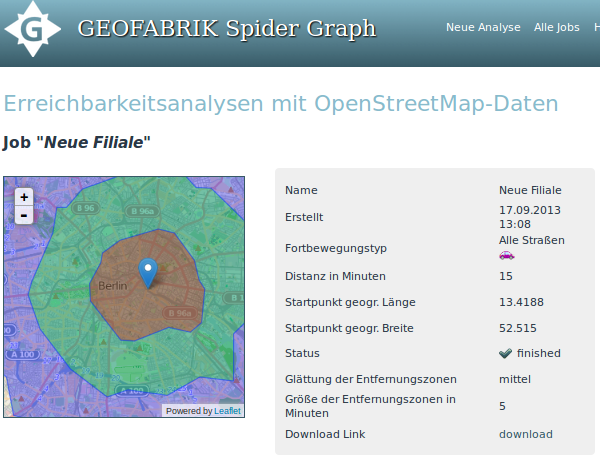 The shape file contains a spider web of streets and paths that can be used within the given time and the given mode of transport. A time attribute in the shape file allows you to colour the resulting graph like we did in the example below.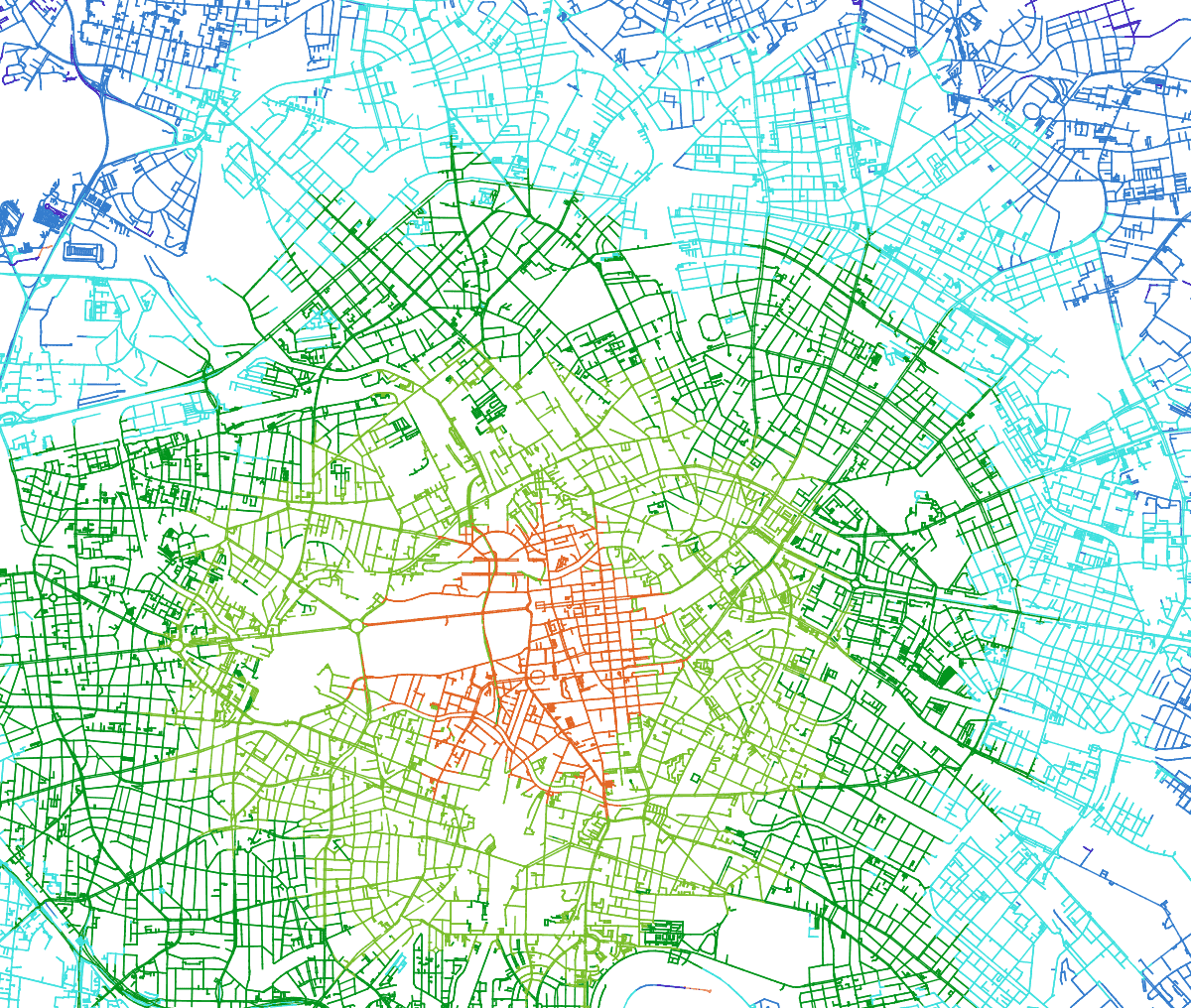 The "Spider Graph" service is available from Geofabrik in a "flat rate" subscription model. Please call us or send us an e-mail if you are interested in this service. We can set up a free trial account for you.