OpenStreetMap
What is this about?
The OpenStreetMap (OSM) project was founded in the United Kingdom in 2004 and is aimed at creating a free, world-wide geographic data set. OpenStreetMap wants to be for geodata what Wikipedia is for encyclopedic knowledge. The focus is mainly on transport infrastructure (streets, paths, railways, rivers), but OpenStreetMap also collects a multitude of points of interest, buildings, natural features and landuse information, as well as coastlines and administrative boundaries.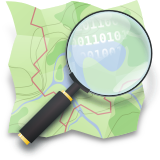 OpenStreetMap relies mostly on data collected by project members using their GPS devices and entered into the central database with specialized editors. For some areas, third party data has been imported.
OpenStreetMap data quality and coverage differ between regions. Many European cities are covered to a level of detail that surpasses what proprietary data vendors have to offer. Often, OpenStreetMap will also be the first to have a new housing development or a new motorway exit mapped. But in some, mostly rural areas there might be nothing in the database except some primary roads.
OpenStreetMap is a community project in which everyone can participate. Prior geography, cartography, or GIS knowledge is not required.
We provide OpenStreetMap to professionals
OpenStreetMap is a free and noncommercial project; everyone can just download OpenStreetMap data free of charge and process it. But not everyone has the means and the time to extract the OpenStreetMap data they need and put it into a format suitable for their project. Additionally, professional users often require a certain level of service and continuity which a hobby project cannot provide.
At Geofabrik, we bridge the gap between free project and professional users with custom data offerings, with consulting, support, training, and software development. We help our customers and the community to work together for mutual benefit.
If you enlist the services of Geofabrik, you will have some of Germany's most experienced "OpenStreetMappers" working for you.
Geofabrik supports OpenStreetMap
Geofabrik supports OpenStreetMap in many ways. Both Frederik Ramm and Jochen Topf are active OSM community members. Geofabrik has helped to import and to fix data, and software developed by Geofabrik has been released to the community. Currently, Geofabrik also sponsors handling and shipping of a pool of project-owned GPS devices that are available for mapping events.
Further reading